Refresh Your Apartment Community with Kingwood Pressure Washing
Welcome to Kingwood Pressure Washing, your professional partner in maintaining the pristine appearance of your apartment complex. Serving the Houston area we specialize in transforming and revitalizing multi-family properties to their utmost potential. Our dedicated team is committed to delivering exceptional commercial pressure washing services that not only enhance the aesthetic of your buildings but also contribute to the longevity of your property.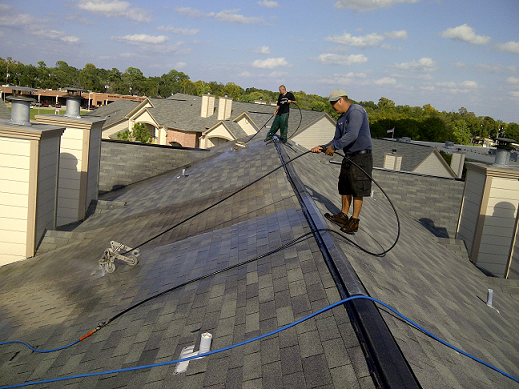 Why Choose Kingwood Pressure Washing for Your Apartment Complex?
Expertise That Shows
With years of experience under our belts, we understand the unique challenges that come with maintaining apartment complexes. Our skilled technicians use the latest pressure washing technology and techniques to effectively remove dirt, grime, algae, and other unsightly stains that can accumulate on building exteriors, walkways, and communal areas.
Tailored Solutions for Every Building
Every apartment complex is unique, and so are its cleaning needs. We offer customized pressure washing services tailored to the specific requirements of your property. Whether it's a quaint complex or a sprawling estate, we ensure that every nook and cranny is addressed with the utmost care and professionalism.
Eco-Friendly Cleaning
Sustainability is at the core of our operations. We utilize environmentally friendly cleaning agents and water conservation methods to ensure that our services are not only effective but also responsible. Protecting the Kingwood community and environment is a priority for us.
Enhanced Curb Appeal and Property Value
First impressions matter. A clean and well-maintained exterior significantly boosts the appeal of your apartment complex, attracting potential residents and pleasing current occupants. Regular pressure washing can also prevent the premature decay of building materials, safeguarding your investment.
Our Apartment Complex Pressure Washing Services Include:
Building Exterior Cleaning: A clean facade stands out. We meticulously wash the exterior surfaces to elevate the look of your complex.
Sidewalk and Walkway Cleaning: Slippery paths are a hazard. Our pressure washing removes dangerous build-ups and restores the safety of your walkways.
Parking Lot and Garage Cleaning: Oil and tire marks are no match for our high-pressure cleaning, ensuring a welcoming entrance for residents and guests.
Common Area Washdowns: Pool decks, patios, and outdoor seating areas are refreshed and sanitized for the enjoyment of your community.
Stairwell and Balcony Cleaning: These high-traffic areas require special attention to maintain their appearance and safety.
Ready to Transform Your Apartment Complex?
Kingwood Pressure Washing is here to bring a new level of clean to your apartment community. Contact us today to schedule a consultation and see the difference professional pressure washing can make for your property. Proudly serving the Houston area, we are the go-to experts for all your apartment pressure washing needs.