Your First Choice for Office Building and Complex Power Washing Services
At Kingwood Pressure Washing, we recognize the critical role that your office building's exterior plays in shaping client perceptions and establishing the professional image of your business. It's not just a structure; it's a statement of your company's quality and commitment to excellence. That's why our dedicated team offers tailored commercial pressure washing services specifically for office buildings and complexes in the Houston, Texas area.
Our approach is meticulous, focusing on delivering a level of cleanliness that goes beyond the surface, ensuring that every corner of your property's facade, walkways, and entryways are pristine and inviting. We're not just cleaning your office exterior; we're enhancing your brand's reputation, one square foot at a time.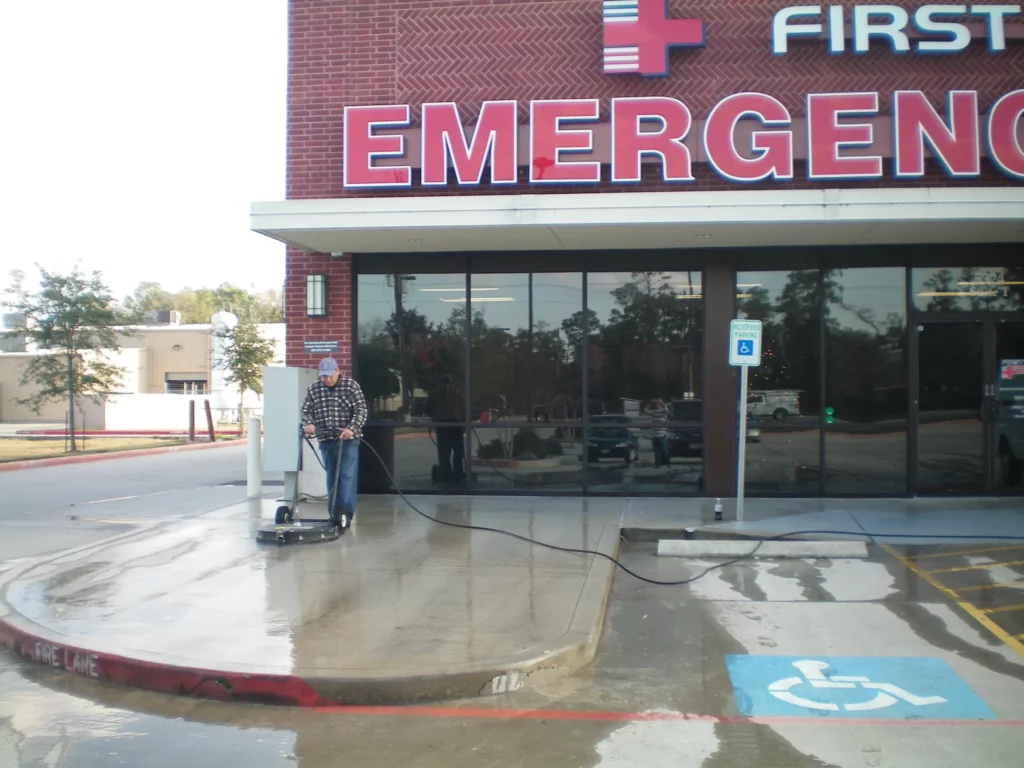 Why Choose Kingwood Pressure Washing for Your Office Complex?
Expertise in Commercial Cleaning: With years of experience, our team has honed the art of pressure washing to perfection, ensuring that every inch of your office exterior is immaculate.
State-of-the-Art Equipment: We use the latest pressure washing technology that effectively removes dirt, grime, and mildew without damaging your property.
Eco-Friendly Solutions: Our cleaning processes are environmentally responsible, safeguarding both your landscaping and the local Houston ecosystem.
Customized Cleaning Plans: We recognize that each office complex is unique. Our services are tailored to meet the specific needs and schedules of your business operations.
Satisfaction Guaranteed: Our job isn't done until you're completely satisfied with the outcome. We pride ourselves on excellence and your property's pristine appearance.
Our Pressure Washing Services for Office Buildings Include:
Facade Cleaning: We rejuvenate your building's facade, removing years of dirt and urban pollutants.
Walkway and Sidewalk Cleaning: Our team ensures that the pathways leading to your office are welcoming and safe for clients and employees alike.
Parking Lot Pressure Washing: A clean parking lot decreases littering, deters rodents, and minimizes pollution runoff.
Graffiti and Stain Removal: We effectively erase unsightly graffiti and stains, restoring your building's respected appearance.
Regular Maintenance Programs: Keep your office exterior consistently clean with our scheduled pressure washing services.
Contact Kingwood Pressure Washing Today
Ready to transform the look of your office building or complex? Contact Kingwood Pressure Washing today to schedule your professional pressure washing service. Trust us to be the guardians of your business's first impression.