Tailored Power Washing Solutions for a Spotless Restaurant Exterior
Maintaining a clean and inviting exterior is essential for the success of any restaurant. At Kingwood Pressure Washing, we specialize in professional restaurant pressure washing services designed to enhance the cleanliness, safety, and overall curb appeal of your establishment. Our dedicated team understands the unique challenges that restaurants face, from grease stains to high foot traffic areas, and we are committed to delivering tailored solutions that contribute to a positive dining experience for your customers.
Our tailored approach means we can customize our services to your restaurant's exact needs. Whether it's an outdoor dining area, a dumpster pad or a drive thru lane, we can clean it. And, we work around you to ensure minimal disruption to your diners.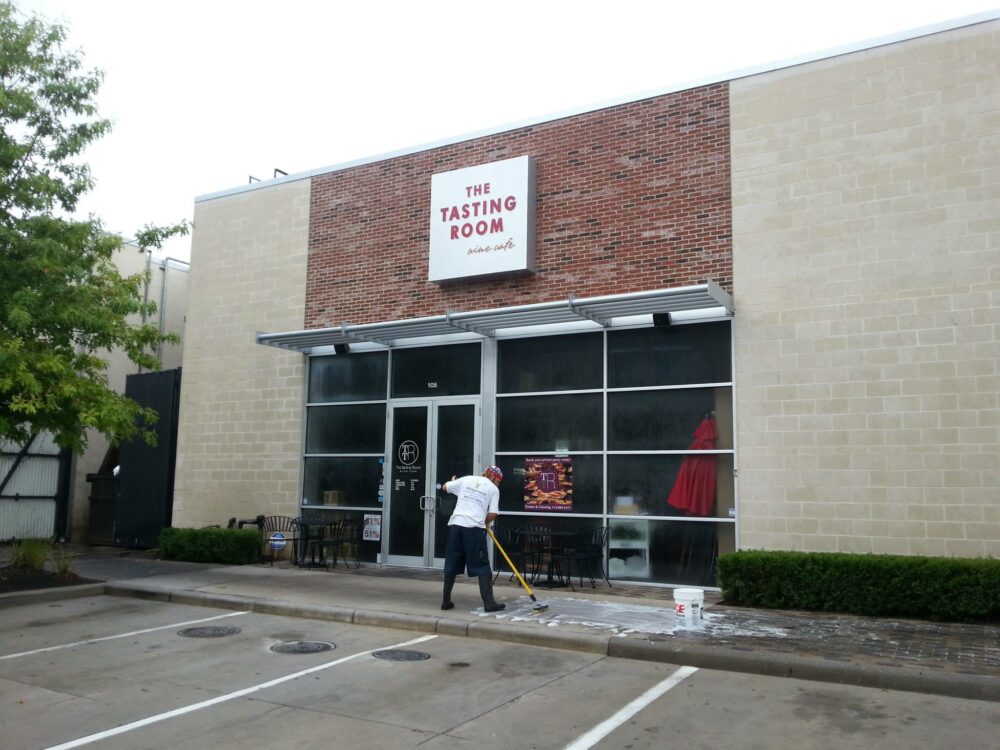 Why Choose Our Restaurant Pressure Washing Services?
Grease and Grime Removal – Restaurants often contend with stubborn grease and grime buildup, especially in high-traffic areas like entryways and outdoor dining spaces. Our pressure washing services are specifically designed to tackle these challenges, ensuring the removal of unsightly stains and maintaining a clean and hygienic environment.
Outdoor Dining Area Cleaning – Outdoor dining areas contribute significantly to the ambiance of your restaurant. Our team specializes in the thorough cleaning of patios, decks, and seating areas, eliminating dirt, mold, and contaminants to create a welcoming space for your patrons.
Facade and Signage Cleaning – A clean and well-maintained facade and signage are crucial for attracting customers. Our pressure washing services rejuvenate the exterior of your restaurant, removing dirt, discoloration, and other contaminants to enhance the overall visual appeal.
Our Restaurant Pressure Washing Solutions
Patio and Deck Cleaning – Create an inviting outdoor dining experience with our patio and deck cleaning services. We remove dirt, mold, and stains to ensure a clean and pleasant atmosphere for your patrons.
Entryway and Sidewalk Cleaning – Make a positive first impression with a clean and welcoming entryway. Our pressure washing services address grease stains, gum, and other contaminants on sidewalks and entry areas, creating a safe and attractive approach for your customers.
Dumpster Pad Cleaning – Maintain a clean and odor-free environment with our specialized dumpster pad cleaning services. We address grease and grime buildup, ensuring a sanitary area for waste disposal.
Elevate Your Restaurant's Appeal with Kingwood Pressure Washing
Invest in the success and reputation of your restaurant with our professional pressure washing services. We understand the unique needs of the food industry and are dedicated to delivering customized solutions that contribute to a positive dining experience. Contact us today to discuss your restaurant pressure washing needs and schedule a cleaning solution that aligns with the specific requirements of your establishment.